Family apartments (70
m²)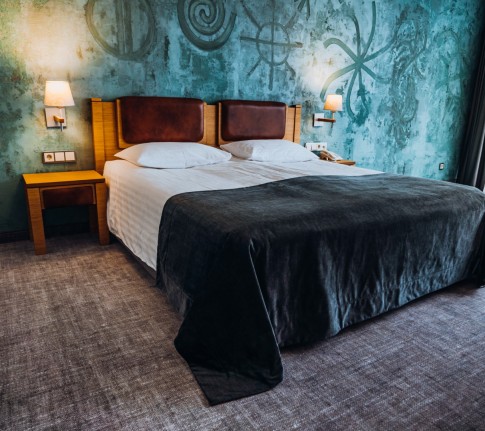 The family apartment is exceptionally spacious at 70 m² and features a king-size bed, a large seating area and a spacious bathroom. Family apartments are an ideal choice for longer stays in Palanga, for families and visits with more than one guest. Each room has satellite TV, a kettle with tea and air conditioning, a safe, desk and minibar.
Additionally, all Executive Double Rooms feature:
Kettle with tea;
Bathrobe and slippers in the room;
Access to wellness center ( 35 m² swimming pool, jacuzzi, , sauna, Hammam, gym ) every morning  8- 12 noon.;
Breakfast in the restaurant ( 8 – 11 am, late Sunday breakfast: 8 – 12 noon );
Wi – Fi in the rooms and main areas;
Parking lot ( based on availability, except summer period );
VAT.
–
Hotel reception
Information and acceptance of reservations
Tel: +370 (460) 48251
Mob: +370 (699) 95973
El. E-mail: info@gabija.lt