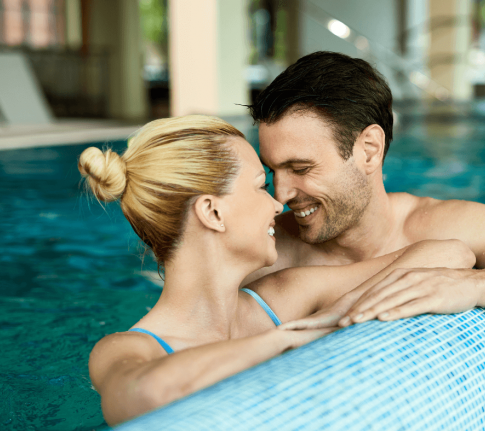 The formula for feeling good is deep sleep, quality food, being in the fresh air, communication and self-love. Adding the sensations provided by massage and water procedures and the comfort of the hotel, we get an almost ideal relaxation option, which is available here and now! Make a reservation!

The offer includes the following services:
2 nights in a standard double room FOR TWO;
Rich breakfast in the restaurant for 2 times, 2 persons;
A vase of fruit in the room on the day of arrival;
Romantic dinner at the hotel restaurant MEAT SteakHouse (1 meal, 2 persons);
2 back massages 30 min. duration;
Morning and evening visits to the spa center (swimming pool, jacuzzi, gym);
A 10% discount is given for spa massage procedures;
Robes in the room;
Wireless Internet;
Late departure (subject to availability);
Parking space (if available).

Offer price for stay on weekdays – 239 € (earliest arrival on Sunday, latest departure on Friday);
The offer price for all-day stays is  - €269.
*The offer is valid from 19-09-2023 until 21-12-2023, except for 27-10-2023 - 05-11-2023.
-
Restaurant "MEAT" opening hours:
Monday - Thursday
12:00 – 21:00 (kitchen until 20:00)
Friday - Saturday
12:00 - 23:00 (kitchen until 22:00)
Sunday
12:00 - 18:00 (kitchen until 18:00)
*The restaurant's opening hours may be adjusted during the off-season
-
Advance reservation is required by phone: +370 699 95973 or by e-mail: info@gabija.lt